Tubing
Let's kick up some fun. There's nothing more relaxing than tubing. Wash the stress away as you float gently on the longest river in the world.
Family, friends, organizations, and groups, it's time to breathe in fresh air and sunshine, laughter and joy, learning and refreshment. Are your kids, adults, and fear water activities for an all-day float trip, but love the idea of floating down the river? Do you want a short float with little work, All in Africa safaris is the answer.
Tubing on River Nile, allows you to escape everyday life while enjoying the perfect outdoor activities. Come join us, and see why our Africa River floats provide some of the most popular splashings in Uganda.
We're just a short drive away from Jinja city
Approximately ten minutes' drive-time from Jinja, give or take,
One-Two hours from Kampala city depending on traffic, and exact location.
There's no better way to beat the stress of work and the noise of the city than participating in a tubing outdoor activity, floating the river. Join us for a River Float, and spend the day making your way through a natural flowing lazy river on a tube while enjoying beverages of your choice and the beautiful atmosphere of River Nile providing everything you need to have the perfect floating experience.
Enjoy the cheerful worry-free activity on the water of your youth and spend the day floating away on the beautiful and longest river in the world with refreshing temperature year-round, no matter how brightly the sun shines this is the perfect way to beat the heat. All in Africa have turned the activity into a more enjoyable, safe, and fun hot spot, and this is the trip to take!!!
Tubing can be fun and exhilarating, the comfortability and size of the tube allows the tuber to float on the river in an inspired manner which is not found in kayaking or rafting.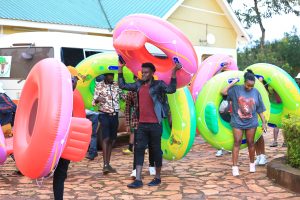 Know before you go tubing
Before booking for tubing please read our rules and Regulations
Our customized tubes are the posh intex brand liners of tubing right down to the longest river on the Nile designed with a built-in backrest for simple cruising and a mesh bottom that keeps you cool, 2 heavy-duty handles, 2 cup holders, and further widebodies, they're the perfect way to enjoy a lazy day gently floating down the stream. Unless tubing with an infant, you'll want all the space of the tube for yourself. Ensure you limit your beverages, keep some drinks at your cottage, or campsite, and sate your deeper thirst after the trip, as there isn't a region or space to strap them onto your tube and within the water.
Our customized world-famous Tube Loop provides the chance to dip your toes within the water. Want to become a child again, or take your kids for his or her first time. Tubing will tickle your happy bone, once you float your stress away on the longest River.
Tubing Cancellation Policy
Cancellation must be done at least seven (7) days prior to your scheduled date of arrival in order to receive a refund. Cancellation within six days of your scheduled date of arrival, in part or in whole, is non-refundable.
Floating Rain Check Policy
Rain checks will not be offered during river floating at All in Africa Safaris tubing, if the rain starts before, tubers will be moved back till the rain stops, and in case the river conditions are floatable—you are projected to float with no rain checks offered.
Rules & Regulations
Check-in starts at 10 am on your date of arrival.
Check-Out is 10 am or earlier on your departure date.
Quiet hours are strictly enforced.
Weekend rates apply depending on the demand and supply
Pets are allowed,
Parents and guardians are responsible for supervising young children.
Campfires contained in fire rings only.
Cutting or other damage to the facility will result in fines equaling $50 per span creep.
All floaters must sign a release of liability waiver to receive their ticket for a float river trip.
Children who are 12 and under are required to wear a Coast Guard-approved Personal Flotation Devices approved at All in Africa Safaris.
Damage to equipment may result in minimum fines of $150.00 per damage
No Styrofoam coolers or other Styrofoam containers.
No glass bottles or containers.
No nudity in or on the tubes and camping facility.
No solicitation of any kind.
No sexual harassment.
No jumping off the tubes.
No littering
Prices are subject to change without notice