Known as "The Galapagos of Africa," is Udzungwa Mountains National Park in southern Tanzania covers more than 770 square miles (1990 sq. km). The unbelievable diversity of tropical species has made the park's recognition as an Eco-region of Global Critical Position by World Wildlife Fund (WTF), as well as a World Biodiversity Hotspot, and the park is a slice of the Eastern Arc Mountains that extend from the Taita Hills in Kenya to Pare, Usambara, Nguru, Ukaguru, Uluguru, Rubeho, and the Udzungwa Mountains.
The landscape is mainly mountain ranges spread with rainforest and arid savannah, rich vegetation flourishes are found here because of the significant rainfall that forms as a result of humidity from the Indian Ocean that condenses at 820 feet to more than 8,450 feet at Luhomero, the park's highest peak.
Spend time in a very rainforest during your East African region safari, enjoy the unpredicted treat, with 30% to 40% of Tanzania's plant and animal life, get chances of observing diverse animals that are found within the park.
Enjoy the sole park in Tanzania with eleven primate species, with five of those species living only within the park boundaries, like diurnal sanje crested mangabey, rungwecebus kipunji, endangered mountain dwarf galago, Iringa red colobus, and matandu dwarf galago. Primates found in other parts of Tanzania are found within the park, these include; black and white colobus, yellow baboon, blue monkey, and Cercopithecus aethiops pygerythrus. The status of the park has also contributed to the preservation of the many bird species, and also the Udzungwa Mountains have high avian diversity, making this sensitive park a place for any birder on safari in Tanzania.
Of the 400 species found within the udzungwa parkland, 12 are endemic to the Eastern Arc Mountains, and these include Rufous-winged sunbird, partridge, elephants, buffalos, duikers, klipspringers, honey badgers, bush pig bushbucks, sables civets, rock hyrax, giant elephant shrew, and plenty of more also are found within the park, in addition, paucity carnivores like crossing lions and indefinable leopard from the nearby Mikumi park. There also reptile and amphibian species, within the forest. Some smaller occupiers of the park such as delicate butterflies also are found within the park. Botany lovers are thrilled with quite 2500 plant species in Udzungwa Mountains Park, with 160 serving healing purposes and others being being endemic to the park. small plants, like Saint palli, pink and purple African violets, giant trees, like the just about 100-foot tall Sterculia appendiculata are all found within the park
For a historical thrilling journey through human history, Udzungwa Mountains is home to many culturally and historically significant sites, like Magombereka Cave, Bokela, Mwanaruvele Cave, Ndundulu, Nyumbanitu Mountains, and others
Udzungwa Forest Tented Camp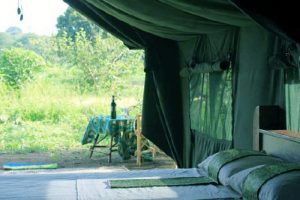 The accommodation borders the national park, giving you spectacular views of the rainforest