Nyungwe Forest National Park located in the Southwestern part of the country near Rwanda's border with the Democratic Republic of Congo and Burundi was established in 2004. It is one of the oldest rainforests in Africa covering 1,019 km2 of dense Afromontane forests, bamboo-covered slopes, grasslands, and wetlands. Nyungwe is rich in biodiversity and spectacularly beautiful. The mountainous region is teaming with wildlife, including a small population of chimpanzees as well as 12 other primate species, including the L'Hoest's monkey endemic to the Albertine Rift. The park is one of the two newest national parks in the county and covers an area of 270 square Kilometers, it feeds two of the world's largest rivers, the Congo and the Nile, and provides 70% of the country's freshwater.
The ecosystem services provided by Nyungwe are estimated at US$4.8 billion by a recent study conducted by the Wildlife Conservation Society (WCS). 
With 15 trails, some of which are detailed here, along with various other activities, visitors can choose to sample the delights of the forest or indulge themselves for a week or more in one of Africa's most stunning forests.
Primate tracking tops most visitors' list, but it's worth lingering a little longer for those with time to relax and take in the primal atmosphere.
Botanists will marvel at the 1,068 plant species and 140 orchids. Bird watching is among the best in Africa with 322 bird species including Red-collared Babbler and 29 other Albertine Rift Endemic species. Butterflies are also a common sight, with at least 120 species.
There are 75 known mammals in Nyungwe, such as the serval cat, mongoose, Congo clawless otter, and leopard to name but a few. Many tend to be shy so sightings are luck of the draw.
Memorable and photogenic moments include walking up to the Isumo waterfall or along the canopy suspension bridge. Tea plantations border the edges of the park, with a habituated troop of Rwenzori colobus monkeys at Gisakura as well as forest fringe birds.
With plenty of rainfall, Nyungwe is also the major catchment area in Rwanda and supplies water to 70% of the country.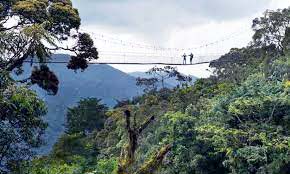 The forest remains green throughout the year hence offering amazing scenery to visitors. Nyungwe forest is dominated by a group of mountains whose formations are related to those in Congo and Uganda. From these mountains, one can have spectacular views of Lake Kivu and the Virunga Volcanoes during certain times of the day. Nyungwe Forest National park is home to more than 200 species of trees including bogs, bamboo, and grasslands. Nyungwe has been described by some as Rwanda's primate capital with over 13 species including the Angola Colobus, Silver monkeys, L'Hoest's Monkeys, Dent's Mona Monkeys, Baboons, Vervet Monkeys, Golden Monkeys, Red-tailed monkeys, Hamlyn's Monkeys, Grey-cheeked Mangabeys, chimpanzees, black and white colobus.
The park is also one of the top birding destinations in Rwanda with an estimated 275 species recorded. The dense forest is also home to 85 mammal species, 120 butterflies, 38 reptiles, 32 amphibians. Golden cats, Leopards, serval cats, Mongooses, civets, and stripped jackals all call this park home. Nyungwe forest has an elaborate network of well-built canopy walks that allow tourists to marvel at the forest and its creatures from a bird's view. The Congo Nile trail passes through this forest enabling bikers to observe forest birds, primates, waterfalls, wildlife, or even go for the popular canopy walk. Apart from the Congo Nile trail route, the forest has over 20 kilometers of well-maintained ground trails for nature walks and a chance to encounter the forest creatures, waterfalls, marshlands, and rain.
One & Only Nyungwe House(Luxury)
Nyungwe top view Hotel
Nyungwe Nziza eco-lodge
Gisakura Guest house
Kitabi eco-centre