Volcanoes National park, "In the heart of Central Africa, so high up that you shiver more than you sweat," wrote the eminent primatologist Dian Fossey, "are great, old volcanoes towering almost 15,000 feet, and nearly covered with rich, green rainforest – the Virungas."
Volcanoes National Park is situated in the far Northwest of Rwanda, the park covers an area of 160 square kilometers and was established in 1925 to protect the endangered mountain gorillas. The Park has the second-highest population of mountain gorillas after Uganda's Bwindi Impenetrable National Park. It is named after the chain of dormant volcanoes making up the Virunga Massif: Karisimbi – the highest at 4,507m, Bisoke with its verdant Crater Lake, Sabinyo, Gahinga, and Muhabura.
The Park protects the steep slopes of this magnificent mountain range – home of the endangered mountain gorillas and a rich mosaic of montane ecosystems, which embrace evergreen and bamboo forest, open grassland, swamp, and heath.
The park is also home to golden monkeys and mammals like forest elephants, spotted hyenas, bushbucks, buffaloes, smaller primates, and over 178 species of birds.
Tracking the endangered mountain gorillas through the mysterious intimacy of the rain forest, along with the calls of over 200 species of colorful birds and chattering of the rarely sighted golden monkey, is only one of the truly unique experiences in the area.
Within the boundaries of the Park is Buhanga Eco-Park, an ancient forest holding Rwanda's most intriguing folklore and Musanze caves, formed 62 million years ago after the last estimated volcanic eruption.
Tiloreza Volcanoes Ecolodge
Singita (Luxury)
Bisate Lodge (Luxury)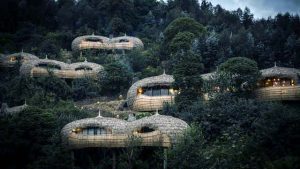 Sabyinyo Silverback Lodge (Luxury)
Virunga Lodge (Luxury)
Five Volcanoes Boutique Hotel (Classic)
Amakoro Songa Lodge (Luxury)
Nyungwe Top View Hill Hotel (Luxury)